Whenever I buy a new piece of electronic equipment, I always leave the manual in the box and see if I can start using it effectively without knowing anything about it. I was not disappointed with this little beauty as it fitted perfectly into the palm of my hand, and my fingers fell naturally onto the zoom, picture and recording controls.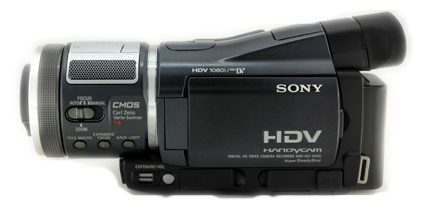 This unit produces great results, even in 'auto' mode for those of you that want a point and shoot solution, like I do most of the time. The 'auto' mode can be disengaged at any time and there are plenty of manual controls too, if you prefer to tweak your shots.

The Carl Zeiss® Vario-Sonnar® T* lens has a feeling of absolute precision, allowing for very smooth zoom shots, and Sony claims that the multi-layer, anti-reflective design allows light to pass through with 80% less ghosting and flare than similar lenses. The zoom range of 10x Optical (120x Digital) provides the ability to close in on subjects that are a long distance away, and the macro capability is nothing short of stunning.

I also find the touch screen LCD display to be a very useful innovation; no more fumbling for controls - they are all there on a bright screen, activated by the lightest of touches. The menu screen offers a full 'help' system, and I find it to be well organized and easily understood.

I began shooting with it virtually as soon as it came out of the box, and the results were crisp, bright and extremely sharp. We took it to Mexico and got some great pictures with it; see our Mexico Travel site if you're interested. We'll be reporting further as we get more used to using it, as I have only scratched the surface so far, but I can highly recommend this camcorder to any of you wanting to upgrade, or even if you're a first time user. Hey Sony, you got this one right!
---
Here are some of the features, as listed by Sony:

With up to 1080 lines of horizontal resolution, the 3.0 Megapixel CMOS Imaging Sensor delivers exceptional video and outstanding still image quality. Unlike traditional CCD Imagers, the CMOS Sensor requires less power for longer shooting times, wide dynamic range and smear-free image reproduction.

Select Standard Digital Video for recording footage on MiniDV media or High Definition recording for greater detail and a professional look. The Sony HDRHC1 Handycam® Camcorder's Dual HDV/DV Format Recording gives you the power to choose.
10x Optical Zoom, 120x Digital Zoom

The Real-Time HD Codec Engine produces the HDRHC1 1080i Camcorder's extraordinary picture. Developed by Sony, this MPEG Encode/Decode system reduces energy consumption and offers enhanced shooting flexibility. Record and playback HD on MiniDV cassettes at the same Bit Rate as standard DV with efficient MPEG2 compression.

The SwivelScreen™ LCD offers the flexibility to record with greater detail from any angle. The enhanced Hybrid technology reproduces clear images in any lighting environment, eliminating the "wash out" effect in direct sunlight, while the Touch Panel feature lets you set and adjust focus and exposure levels by simply touching the screen.

The HDRHC1 Handycam® HDV Camcorder also comes equipped with Sony's Super SteadyShot® technology. Super SteadyShot® controls and steadies a high range of shake and vibration frequencies when you zoom in on your subject from a distance, making sure your home videos come out with an advanced level of smoothness.

For the sake of clarity, here are some acronym and terminology definitions relating to the various display technologies, used in the other table below to compare the various screen types:
| | |
| --- | --- |
| TERM | DEFINITION |
| TLA | Three Letter Acronym |
| HDTV | High Definition Television. The highest quality video picture available in Digital TV. In the U.S., the 1080i and 720p resolution formats in a 16:9 aspect ratio are the two acceptable HDTV formats. Regular NTSC analog TV is 480i. |
| HTPC | Home Theater Personal Computer. The use of a PC as a processing and source control platform for a home theater system. |
| RPTV | Rear Projection TV. The type of home theater screen system where the image is projected onto the back of the screen. Can be DLP, LCD, CRT projection technology. |
| Lumens | An ANSI Lumen is a measurement of light radiation or brightness. A 3,000 Lumen projector creates a brighter picture than a 2,000 Lumen unit. The ANSI prefix is a standards designation (American National Standards Institute). |
| Nits | Plasma and LCD manufacturers use this term to define the brightness of their screens. Another term for Nits is Candelas per square meter (Cd/m2). One nit = 0.2919 foot-lambert. Nits includes an area definition, unlike lumens, so you can't simply divide by Watts to establish a Nits/watt spec. |
| 480i 720p 1080p | resolution measurement in lines, p for "progressive scan", i for "interlaced scan". Conventional TV (e.g. 480i) is interlaced whereby the screen is scanned twice by alternate lines that are interleaved (interlaced), whereas HDTV (e.g. 720p) can scan all lines sequentially (consecutively or progressively). |
| DVI HDCP | Digital Visual Interface technology with High-bandwidth Digital Content Protection. Developed by Intel Corporation, HDCP is a specification to protect digital entertainment content through the DVI interface. The HDCP specification provides a transparent method for transmitting and receiving digital entertainment content to DVI-compliant digital displays. Some products, such as set-top boxes and DVD burners will require this connector. Even if you have a HDTV set-top box, if it lacks the DVI, your signal may be degraded. |
| HDMI | High Definition Multimedia Interface. Like DVI, HDMI is another digital interface, and from what we saw at CES 2005, it may become the universal standard. Developed by Sony, Hitachi, Thomson (RCA), Philips, Matsushita (Panasonic), Toshiba and Silicon Image, the High-Definition Multimedia Interface (HDMI) has emerged as the connection standard for HDTV and the consumer electronics market. HDMI is the first digital interface to combine uncompressed high-definition video, multi-channel audio and intelligent format and command data in a single digital interface. |
| SACD | Super Audio CD uses a new recording technology called Direct Stream Digital. DSD records a one bit digital signal at a sample rate of 2.8 million times per second, 64 times higher than conventional CD's. |
| NTSC | Existing color TV standard developed in the U.S. in 1953 by the National Television System Committee. NTSC vertical line resolution is 525 lines/frame and the vertical frequency is 60Hz. The NTSC frame rate is 29.97 frames/sec. |
| CRT | Cathode Ray Tube - venerable old style picture tube |
| PDP | Plasma Display Panel, plasma is a physics term for an electrically charged gas |
| LCD | Liquid Crystal Display, same as laptop screens |
| TFT | Thin Film Technology, a type of LCD |
| DLP | Digital Light Processor, a reflective light switch chip developed by TI. Has a very fast response time - no motion lag |
| TI | Texas Instruments Corp., original manufacturer of DMD's and DLP's |
| DMD | Digital Micro-mirror Device - chip for DLP technology by TI |
| DNIe | Digital Natural Image enhancement - chip for optimizing video picture quality, by Samsung (used in their DLP units) |
| LCoS | Liquid Crystal on Silicon, reflective light switch |
| SXRD projection | Silicon X-tal Reflective Display: Sony's incarnation of LCoS technology. Sharp picture, no pixelation, very high resolution, reflective system won't burn out picture element, "no moving parts" design usually incorporates 3 imaging chips for primary colors, instead of color wheel. |
| SED | Surface conduction Electron emitter Display by Toshiba/Canon |
| FED | Field Emission Display: New technology from Sony |
| OLED | Organic Light Emitting Diode display: new technology from Seiko-Epson |
| D-iLA | Direct Drive Image Light Amplifier, LCoS chip developed by JVC |
| QXGA | high screen resolution of 2048 x 1536, attained by D-iLA chip |
| DCDi | Directional Correlation Deinterlacing (a de-interlacing method to eliminate jagged edges (jaggies) along diagonal lines caused by interpolation, developed by Faroudja corp. An important feature to look for, this Emmy® award winning technology was once only available in products costing $20,000 or more, and is now available in numerous products costing well below $2,000 |
| aspect ratio | ratio of screen width to height. An aspect ratio of 4:3 is conventional TV and 16:9 is HDTV (and film) |
| 3-2 pulldown | a method of film-to-video conversion |
| twitter and judder | terms describing film conversion related artifacts |
| anamorphic lens | a special lens that compresses the pixels of a 4:3 screen into a 16:9 format, and allows a projector to use the full brightness of the display, without black bars above and below the image. Must normally be removed for regular 4:3 viewing. |
| SDE | Screen Door Effect is a term used to refer to the visible pixel structure on a screen. |
| YADR! | Yet Another Dang Remote! A common exclamation heard from people who just bought their third or fourth home audio/video component. And then there are further unmentionable expletives when you find out a component isn't supported, or it's just too complicated to program everything in?? Maybe it's time to read about our experience in the remote control review article. |

The following table provides a quick comparison of the display types; "pixelation" refers to the ability to see individual picture elements (pixels) at normal viewing distances (note that all the types below can contribute to the YADR index). Please note that these products are being constantly improved and not all manufacturer's models may be subject to the disadvantages listed below:


DISPLAY TYPE
PRO - ADVANTAGE
CON - DISADVANTAGE
CRT conventional
picture tube
Cathode Ray Tube: very sharp and bright, high contrast ratio, good picture view from side, low cost, handles regular analog NTSC channels well, no moving parts
heavy and bulky, limited in size to about 36", picture can fade
CRT projection

low cost, large screens possible, no moving parts
heavy and bulky, limited viewing angles, visible raster lines, mis-convergence can be a problem, picture can fade over time
LCD flat screen panel
Liquid Crystal Display: bright, sharp picture, light and compact, can hang on wall, solid state, no moving parts
picture can fade over time
LCD projection
fairly bright, large screens possible, sharp picture, no moving parts
display can fade due to heat damage to organic compounds that some manufacturers use in the LCD, projector bulb can fail
PDP Plasma flat screen panel
Plasma Display Panel: bright picture, light and compact, can hang on wall, wide viewing angle, no moving parts, handles fast motion really well
expensive, some pixelation, display can burn out.
DLP projection
Digital Light Processor: bright, sharp picture, high contrast, no pixelation, reflective system won't burn out picture element, very fast response time - no motion lag.
possible visual "rainbow" artifacts on single chip versions caused by spinning color wheel, projector bulb can fail
LCoS projection
Liquid Crystal on Silicon: bright, sharp picture, no pixelation, very high resolution, reflective system won't burn out picture element, "no moving parts" design usually incorporates 3 imaging chips for primary colors, instead of color wheel.
projector bulb can fail
SXRD projection
Silicon X-tal Reflective Display: Sony's incarnation of LCoS technology. Sharp picture, no pixelation, very high resolution, reflective system won't burn out picture element, "no moving parts" design usually incorporates 3 imaging chips for primary colors, instead of color wheel.
projector bulb can fail
SED panel display
Surface conduction Electron emitter Display: very bright picture, very high resolution, can hang on wall, very high contrast ratio, can be viewed from any angle, no moving parts, handles fast motion really well
expensive at first, not available yet
FED panel display
Field Emission Display: New technology from Sony, properties are similar to SED
expensive at first, not available yet
OLED panel display
Organic Light Emitting Diode display: new technology from Seiko-Epson
expensive at first, not available yet