Bulletin: RollerTrol™ Automation Systems is Launched!
We have been busy making and selling roller blinds and projector screens for some time, and we have decided to start selling the components at RollerTrol.com so others can do the same.
Take a look at our online store for tubular motors and other associated products - make your own custom shade or screen size that fits your room perfectly! We also have special motor kits that work with x10 automation systems.
While you're at it, check out our tubular motors with built-in radio controllers. When used with our multi-channel remotes, you can control the screen AND blackout blinds with a single remote!
End Bulletin: RollerTrol™ Automation Systems


The BenQ PB6200 DLP projector arrived one afternoon, right on schedule.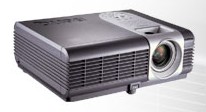 I had the carton in the house with the lid opened in about 500 milliseconds and, if first impressions mean anything, I was glad to see that it was suspended safely in the center of the box in a foam cradle that would probably survive all but the hardest of impacts.

This is the fifth in a series of articles designed to help you get through the complicated process of choosing and setting up a home theatre system.

The fourth article explores the reasons behind my decision to buy this particular DLP projection unit; here's a recap of my main requirements:

-a BIG screen for my money, not just something a foot or two bigger than my 27" TV
-something unobtrusive that wouldn't dominate the room when not in use
-a bright, sharp, high contrast picture without screen door effect (SDE)
-something with a cost that didn't require a second mortgage
-a display that didn't deteriorate significantly over time
-a watchable picture in ambient lighting conditions
-a reasonably wide viewing angle
-XGA (1024x768) resolution
-RGB computer input


I placed it on my coffee table, deployed the screen, and closed the window blinds. This is it, I thought, as I turned the power switch on and removed the lens cap - did I buy a turkey or is this going to work for me? A light started blinking, the dual fan array suddenly revved up to a high speed, then settled down to a quiet level. At first there was nothing on the screen and I thought uh oh, it's DOA ... then a faint blue screen with a large BenQ logo appeared and I thought uh oh, it's not at all bright. My trepidation soon evaporated as I realized it was gradually ramping up the brightness and, in a about 30 seconds, I had a bright, deeply saturated blue picture on my 10 foot screen - wow!

A 'searching for source' icon had also appeared in the lower right corner of the screen so I connected my laptop to the RGB input connector and, there it was ... REALLY BIG EMAIL!

Not only was it big, but it was very bright and very sharp, with no visible pixelation from where I sat. I walked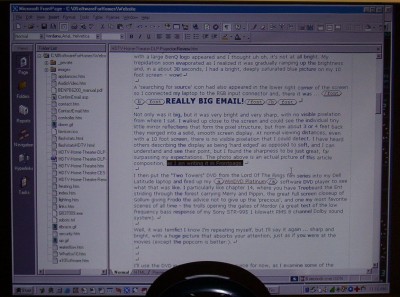 up close to the screen and could see the individual tiny little mirror reflections that form the pixel structure, but from about 3 or 4 feet back they merged into a solid, smooth screen display.

I tested the viewing angle from all the seats in the room, including the floor cushions, and there was no dimming of the screen from any view angle - unlike the rear projection screens I have seen. Even a very exaggerated viewing angle from outside the room through a door was no problem.

At normal viewing distances, even with a 10 foot screen, there is no visible pixelation that I could detect. I have heard others describing the display as being 'hard edged', and I can understand and see their point, but I found the sharpness to be just great, far surpassing my expectations. Appreciation and interpretation of light is a highly individual thing and I'm sure not everyone will agree with my evaluation. The photo above, taken from about a 15 foot distance from the screen, is an actual picture of this article composition as I write it in Frontpage - you can click on it to get the original, larger picture (in a new browser window).

Please keep in mind all the screen photos are JPEG compressed images shot with our Kodak CX6230 2 megapixel digital camera, set on AUTO without any aperature adjustments to compensate for low light levels.
It only provides an approximation of the experience, and the pictures are not nearly as good as what you would see standing in front of the screen. The object at the bottom of the screen is the top of a chair (plus shadow) that I placed, just to give you some perspective on the screen size.

The picture on the right is a closeup of the screen from about 6 inches. You can see how close the Texas Instruments engineers were able to position the individual micro mirrors - there is very little screen door effect even from that distance. This is the 'G' character in the REALLY BIG EMAIL! phrase above. You can also clearly see the font anti-aliasing at the bottom of the letter, where the micromirrors are partially turned off to create smooth edges.

For around $30, I picked up a 10 foot diagonal bright white roll-up screen (gain of about 1.2) that will cover the end wall in my great room. You can find rolled projector screen material at Ebay. I am converting it to a motorized, remote controlled, retractable unit, using X10 switch modules and a motorized drapery controller (for more info on the incredibly useful x10 technology, see our home page). I bought a chain driven blind fixture from a local hardware store, cut off the vinyl blind, hacksawed the horizontal aluminum roller tube in half, and inserted an 8 ft. piece of anodized aluminum tubing to extend the roller, for a total screen width of 110". I'll be attaching the #3142 motorized drapery controller from Smarthome.com. The projector could be concealed in a light fixture array hung from the ceiling, so that the whole system would be quite unobtrusive when not being used. Here are some pictures of the drop down screen partially unfurled (left) and fully retracted (right):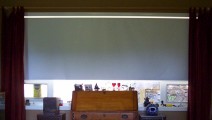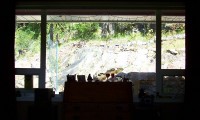 Now you see it ... Now you don't ...

I found the remote control very simple to use, with a user friendly on-screen display of the adjustment parameters. It was also interesting to note that the raster display can be inverted four different ways, to provide for front OR rear projection (mirror image), ceiling OR table mount (ceiling mount is turned upside down so that top mounted controls like zoom and focus are still available). It includes a keystone adjustment for making the screen perfectly rectangular, but I had no problem with this; it worked perfectly right out of the box as long as the projector was centered correctly. The image focus is sharp and intensity is very uniform, from corner to corner, and the picture is almost perfectly rectangular.

I then put the "Two Towers" DVD from the Lord Of The Rings film series into my Dell Latitude laptop and fired up my WinDVD Platinum
software DVD player to see what that was like. I particularly like chapter 14, where you have Treebeard the Ent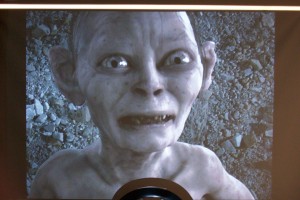 striding through the forest carrying Merry and Pippin, the great full screen closeup of Gollum giving Frodo the advice not to give up the 'precious', and one my most favorite scenes of all time - the trolls opening the gates of Mordor (a great test of the low frequency bass response of my Sony STR-995 1 kilowatt RMS 8 channel Dolby sound system).

Well folks, it was terrific! I know I'm repeating myself, but I'll say it again ... sharp and bright, with a huge picture that absorbs your attention, just as if you were at the movies (except the popcorn is better:). The bright bar across the top of the picture is actually the bright sunlight outside coming through the gap between the top of the screen and my window frame. You can see that even with quite a lot of ambient light in the room (coming through other windows and doors), the screen is still highly watchable. These pictures were not taken in blackout conditions; there were no room lights on but there was enough light filtering in that I could easily see what I was doing.

I looked hard for the infamous 'rainbow effect' characteristic of single chip projectors, but I could only induce it with a very rapid, extreme eye movement when there was a lot of action on the screen. This is something I would never do under normal viewing conditions, so it is a non-issue for me.

We also bought a copy of the Academy Award winning documentary Winged Migration in widescreen DVD format.

In my opinion, this film is a milestone in the progress of film development, and will go down in history as an audio-visual masterpiece. I never thought a documentary could be an emotional experience, but this one is. The included featurette "The Making of " is almost as good as the movie itself. Don't miss this one folks, it will amaze you, your family and your friends when shown on the big screen.

I connected my stand-alone DVD player to the S Video input and got a pretty decent picture too. I later bought a 'break out' VGA cable that allowed me to connect my external DVD player to use the component video input of the projector (it's on the VGA connector port). This gave me a better picture yet, though not as good as playing a DVD directly from my laptop.

I also connected the S-video output from my cable converter, but it gave the worst picture of all. The interlacing artifacts were highly visible and it was very fuzzy. In the next article, I'll discuss the significant improvement I experienced by running it through an analog to digital converter, directly into my laptop via the digital firewire input.

This is where the processing power of an HTPC (Home Theater PC) comes in to play. We still watch a fair amount of plain old NTSC programming, so I'm going to see what I can do to improve the quality of it on a big screen. With good deinterlacing and line doubling techniques, I should be able to produce a more watchable picture. I've ordered an inexpensive re-certified 2 Ghz widescreen WXGA 'multimedia' laptop to use as a dedicated HTPC. The HTPC experience will be the basis for another forthcoming article; stay tuned ...

Author's note May 29/04: The new WXGA laptop has arrived; preliminary results with WinDVD Platinum
were excellent, more to come soon. The improvements in the latest version of WinDVD Platinum
are quite remarkable, especially the smooth reverse play, screen border blackout, and Trimension anti-aliasing.


For the sake of clarity, here are some acronym and terminology definitions relating to the various display technologies, used in the other table below to compare the various screen types:
| | |
| --- | --- |
| TERM | DEFINITION |
| TLA | Three Letter Acronym |
| HDTV | High Definition Television. The highest quality video picture available in Digital TV. In the U.S., the 1080i and 720p resolution formats in a 16:9 aspect ratio are the two acceptable HDTV formats. Regular NTSC analog TV is 480i. |
| HTPC | Home Theater Personal Computer. The use of a PC as a processing and source control platform for a home theater system. |
| RPTV | Rear Projection TV. The type of home theater screen system where the image is projected onto the back of the screen. Can be DLP, LCD, CRT projection technology. |
| Lumens | An ANSI Lumen is a measurement of light radiation or brightness. A 3,000 Lumen projector creates a brighter picture than a 2,000 Lumen unit. The ANSI prefix is a standards designation (American National Standards Institute). |
| Nits | Plasma and LCD manufacturers use this term to define the brightness of their screens. Another term for Nits is Candelas per square meter (Cd/m2). One nit = 0.2919 foot-lambert. Nits includes an area definition, unlike lumens, so you can't simply divide by Watts to establish a Nits/watt spec. |
| 480i 720p 1080p | resolution measurement in lines, p for "progressive scan", i for "interlaced scan". Conventional TV (e.g. 480i) is interlaced whereby the screen is scanned twice by alternate lines that are interleaved (interlaced), whereas HDTV (e.g. 720p) can scan all lines sequentially (consecutively or progressively). |
| DVI HDCP | Digital Visual Interface technology with High-bandwidth Digital Content Protection. Developed by Intel Corporation, HDCP is a specification to protect digital entertainment content through the DVI interface. The HDCP specification provides a transparent method for transmitting and receiving digital entertainment content to DVI-compliant digital displays. Some products, such as set-top boxes and DVD burners will require this connector. Even if you have a HDTV set-top box, if it lacks the DVI, your signal may be degraded. |
| HDMI | High Definition Multimedia Interface. Like DVI, HDMI is another digital interface, and from what we saw at CES 2005, it may become the universal standard. Developed by Sony, Hitachi, Thomson (RCA), Philips, Matsushita (Panasonic), Toshiba and Silicon Image, the High-Definition Multimedia Interface (HDMI) has emerged as the connection standard for HDTV and the consumer electronics market. HDMI is the first digital interface to combine uncompressed high-definition video, multi-channel audio and intelligent format and command data in a single digital interface. |
| SACD | Super Audio CD uses a new recording technology called Direct Stream Digital. DSD records a one bit digital signal at a sample rate of 2.8 million times per second, 64 times higher than conventional CD's. |
| NTSC | Existing color TV standard developed in the U.S. in 1953 by the National Television System Committee. NTSC vertical line resolution is 525 lines/frame and the vertical frequency is 60Hz. The NTSC frame rate is 29.97 frames/sec. |
| CRT | Cathode Ray Tube - venerable old style picture tube |
| PDP | Plasma Display Panel, plasma is a physics term for an electrically charged gas |
| LCD | Liquid Crystal Display, same as laptop screens |
| TFT | Thin Film Technology, a type of LCD |
| DLP | Digital Light Processor, a reflective light switch chip developed by TI. Has a very fast response time - no motion lag |
| TI | Texas Instruments Corp., original manufacturer of DMD's and DLP's |
| DMD | Digital Micro-mirror Device - chip for DLP technology by TI |
| DNIe | Digital Natural Image enhancement - chip for optimizing video picture quality, by Samsung (used in their DLP units) |
| LCoS | Liquid Crystal on Silicon, reflective light switch |
| SXRD projection | Silicon X-tal Reflective Display: Sony's incarnation of LCoS technology. Sharp picture, no pixelation, very high resolution, reflective system won't burn out picture element, "no moving parts" design usually incorporates 3 imaging chips for primary colors, instead of color wheel. |
| SED | Surface conduction Electron emitter Display by Toshiba/Canon |
| FED | Field Emission Display: New technology from Sony |
| OLED | Organic Light Emitting Diode display: new technology from Seiko-Epson |
| D-iLA | Direct Drive Image Light Amplifier, LCoS chip developed by JVC |
| QXGA | high screen resolution of 2048 x 1536, attained by D-iLA chip |
| DCDi | Directional Correlation Deinterlacing (a de-interlacing method to eliminate jagged edges (jaggies) along diagonal lines caused by interpolation, developed by Faroudja corp. An important feature to look for, this Emmy® award winning technology was once only available in products costing $20,000 or more, and is now available in numerous products costing well below $2,000 |
| aspect ratio | ratio of screen width to height. An aspect ratio of 4:3 is conventional TV and 16:9 is HDTV (and film) |
| 3-2 pulldown | a method of film-to-video conversion |
| twitter and judder | terms describing film conversion related artifacts |
| anamorphic lens | a special lens that compresses the pixels of a 4:3 screen into a 16:9 format, and allows a projector to use the full brightness of the display, without black bars above and below the image. Must normally be removed for regular 4:3 viewing. |
| SDE | Screen Door Effect is a term used to refer to the visible pixel structure on a screen. |
| YADR! | Yet Another Dang Remote! A common exclamation heard from people who just bought their third or fourth home audio/video component. And then there are further unmentionable expletives when you find out a component isn't supported, or it's just too complicated to program everything in?? Maybe it's time to read about our experience in the remote control review article. |

The following table provides a quick comparison of the display types; "pixelation" refers to the ability to see individual picture elements (pixels) at normal viewing distances (note that all the types below can contribute to the YADR index). Please note that these products are being constantly improved and not all manufacturer's models may be subject to the disadvantages listed below:


DISPLAY TYPE
PRO - ADVANTAGE
CON - DISADVANTAGE
CRT conventional
picture tube
Cathode Ray Tube: very sharp and bright, high contrast ratio, good picture view from side, low cost, handles regular analog NTSC channels well, no moving parts
heavy and bulky, limited in size to about 36", picture can fade
CRT projection

low cost, large screens possible, no moving parts
heavy and bulky, limited viewing angles, visible raster lines, mis-convergence can be a problem, picture can fade over time
LCD flat screen panel
Liquid Crystal Display: bright, sharp picture, light and compact, can hang on wall, solid state, no moving parts
picture can fade over time
LCD projection
fairly bright, large screens possible, sharp picture, no moving parts
display can fade due to heat damage to organic compounds that some manufacturers use in the LCD, projector bulb can fail
PDP Plasma flat screen panel
Plasma Display Panel: bright picture, light and compact, can hang on wall, wide viewing angle, no moving parts, handles fast motion really well
expensive, some pixelation, display can burn out.
DLP projection
Digital Light Processor: bright, sharp picture, high contrast, no pixelation, reflective system won't burn out picture element, very fast response time - no motion lag.
possible visual "rainbow" artifacts on single chip versions caused by spinning color wheel, projector bulb can fail
LCoS projection
Liquid Crystal on Silicon: bright, sharp picture, no pixelation, very high resolution, reflective system won't burn out picture element, "no moving parts" design usually incorporates 3 imaging chips for primary colors, instead of color wheel.
projector bulb can fail
SXRD projection
Silicon X-tal Reflective Display: Sony's incarnation of LCoS technology. Sharp picture, no pixelation, very high resolution, reflective system won't burn out picture element, "no moving parts" design usually incorporates 3 imaging chips for primary colors, instead of color wheel.
projector bulb can fail
SED panel display
Surface conduction Electron emitter Display: very bright picture, very high resolution, can hang on wall, very high contrast ratio, can be viewed from any angle, no moving parts, handles fast motion really well
expensive at first, not available yet
FED panel display
Field Emission Display: New technology from Sony, properties are similar to SED
expensive at first, not available yet
OLED panel display
Organic Light Emitting Diode display: new technology from Seiko-Epson
expensive at first, not available yet