Bulletin: RollerTrol™ Automation Systems is Launched!
We have been busy making and selling roller blinds and projector screens for some time, and we have decided to start selling the components at RollerTrol.com so others can do the same.
Take a look at our online store for tubular motors and other associated products - make your own custom shade or screen size that fits your room perfectly! We also have special motor kits that work with x10 automation systems.
While you're at it, check out our tubular motors with built-in radio controllers. When used with our multi-channel remotes, you can control the screen AND blackout blinds with a single remote!
End Bulletin: RollerTrol™ Automation Systems


x10 software for controlling lights and appliances has never been easier. The Activehome Pro™ controller kit, complete with software, is an affordable 'standalone micro computer' system that can be programmed by connecting it to your PC. An important point is that you can disconnect your laptop or PC at any time - the controller will continue to execute your program by itself. Using the Activehome Pro controller you can control lights and appliances in three ways: the Activehome Pro software uses a built-in scheduler to control any device in your home at times you specify. Activehome Pro's scheduling capability is flexible, so you can vary the times that lights and appliances turn on or off to make your home look lived-in. Scheduling light and appliance activity with Activehome Pro can even help you manage your energy consumption.

Here's a screen capture of my x10 software showing some of my spa controls: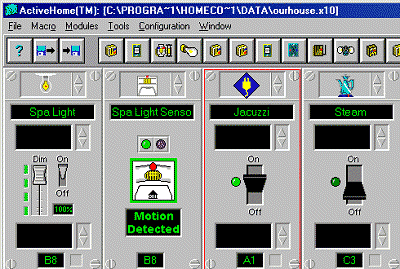 You can easily use a remote control to activate individual devices in your home -- or with the Routine Feature, groups of devices. For example, you can use the remote to turn off the lights and television at night, without leaving your bed. You can even use Activehome Pro x10 software via telephone with an optional X10 telephone controller. At your computer, you can turn lights and appliances on or off in real-time (actually just a few seconds) while sitting at your computer.

x10 software learns about your lifestyle! Activehome Pro is designed for maximum flexibility and convenience, so turning a light or appliance on manually will not disrupt scheduled Activehome Pro events. Activehome Pro's LifeStyle Feature can learn the usage patterns of connected lights and appliances. When you're away, simply set Activehome Pro to replay your actual Lifestyle pattern to make your home look occupied.

Dawn and Dusk Feature Rather than having

your lights go on and off at the same time each day, you can use the Dawn and Dusk feature. Simply choose the nearest major city from the Geographic Location menu, and Activehome Pro will calculate dawn and dusk times for your location each day. No matter what time of year, lights of your choice can be turned on or off at dawn or dusk. If you prefer, you can specify exact times as well.

Smart USB Interface Activehome Pro's smart USB interface module lets you activate events without leaving your computer powered on all the time, allowing efficient power management. No additional wiring for easy, hassle-free setup and expandability.

Activehome Pro x10 software controls a wide range of user-friendly X10 accessories that work with your home's existing electrical wiring - eliminating the hassle and expense of additional wiring.

Each light or appliance to be controlled through Activehome Pro software is simply plugged into a module, which then plugs into your existing outlet. These modules are given addresses so that each light or appliance can be easily identified by your system.

Want to expand? Adding more lights and appliances to your Activehome Pro system is easy. Among the accessories that work with Activehome Pro are remote controls, modules for exterior lights, interior light switches, wall outlets, thermostat controls and many other specialty items. You can add modules and accessories at any time and these are readily available from X10 (for complementary home automation products such as lighting control and motorized blinds and shades, see our home automation DIY kit article). Activehome Pro software is capable of managing up to 256 devices, so you'll have no problem with expandability.