DLP LED, SXRD and SED technology jumps to 1080p resolution
Bulletin: RollerTrol™ Automation Systems is Launched!
We have been busy making and selling roller blinds and projector screens for some time, and we have decided to start selling the components at RollerTrol.com so others can do the same.
Take a look at our online store for tubular motors and other associated products - make your own custom shade or screen size that fits your room perfectly! We also have special motor kits that work with x10 automation systems.
While you're at it, check out our tubular motors with built-in radio controllers. When used with our multi-channel remotes, you can control the screen AND blackout blinds with a single remote!
End Bulletin: RollerTrol™ Automation Systems


Not to be outdone by the Sony SXRD, and Toshiba-Canon SED technology, Texas Instruments announced this month that its high-definition (HD) resolution DarkChip3 (xHD4) DLP TV technology (1920 x 1080) is in full production, with shipments to customers already taking place. With a contrast ratio in some sets exceeding 10,000:1, these DLP TVs are expected to be the first volume 1080p TVs available on the U.S. market, with affordable 1080p DLP TVs scheduled to be available as early as July from manufacturers such as Toshiba, HP, LG, Mitsubishi, and Akai. Samsung has taken things one step further with the new LED digital light engine from Luminus (see more info below).

The xHD4 1080p DLP chip provides some more HDTV definitions to learn about:

SharpPicture™: Processing enhancement that works in conjunction with SmoothPicture™ technology to simultaneously provide sharp, yet smooth and seamless images.
DynamicColor™: Enhances colors and contrast without impacting skin tones, allowing for more vibrant and lifelike color reproduction.
DynamicBlack™: System level solution which provides dramatic increases in system contrast ratio and grayscale fidelity by as much as 4x, bringing greater detail to dark scenes and images and allowing customers to achieve contrast ratios well above 5000:1.
DarkChip3™: Feature that includes architectural changes to the DLP chip resulting in a 20 - 40% improvement in contrast over DarkChip2™.

There are some fancy tricks involved with the new DarkChip3, which actually has only 960x1080 pixels, half the number of pixels in a true 1080p chip like the Sony SXRD (1920x1080). So how do they produce a 1080p picture with only half the pixel count?



First, the micromirrors (pixels) are rotated 45° to offset the need for interpolation of the 1080p signal. This functions in combination with another key technology called Wobulation, a technique developed by Hewlett Packard. The design incorporates an external swiveling mirror that alternates between 2 angles, effectively allowing the system to use each pixel in the DLP chip twice in one frame.



The pixels are illuminated every 1/120th of a second, displaying half the pixels in each 1920 x 1080 frame, then the reflected image is shifted by the swiveling mirror by a half pixel, and the rest of the pixels in the frame are illuminated for the following 1/120th of a second. The two sets of images are blended together by the image retention characteristics of the human eye, in much the same way as conventional TV uses an interlaced scan (only much faster). The picture on the left is wobulated, the sample on the right is not.

It is claimed that Wobulation produces a high resolution image that also almost completely eliminates the screen door effect due to the overlapping pixels. Other manufacturers that use a similar Wobulation technique often refer to it as SmoothPicture, a name trademarked by TI.

So here we have Sony producing a 3 chip pure 1080p device with their SXRD product, stacking up against a single chip DLP true 1080p design with half the pixels being Wobulated. At first glance, it might seem that the pure 3 chip approach is the ultimate, but there are those that would debate that idea. Some of the points being made:

First, the wobulated DLP pixels have an overlap, said to completely eliminate any space between pixels, thus any SDE (Screen Door Effect) is gone. Secondly, some of the new DLP sets are using a 6-color (RGBCMY) color wheel that greatly enhances the color gamut. The 3 chip designs are theoretically limited to using no more than 3 colors.

It will be interesting to see a side by side comparison of these two competing technologies, such as the HP md5880n 58" HDTV set vs the Sony KDS-70CQ006 Qualia. The pricing on these units doesn't seem very far apart either; but I expect that ultimately the DLP wobulated single chip LED sets will be less expensive.

What's a DLP LED set? For RPTVs, there's another light projection technology coming forward that uses a single DLP digital light processor chip in an altogether different way: LED (Light Emitting Diode). Dispensing entirely with the high intensity lamp usually used in DLP projection systems (and SXRD LCoS),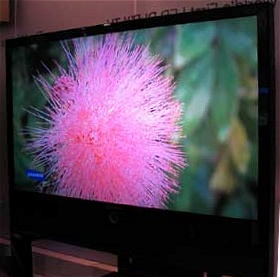 Samsung and AKAI will shortly begin shipment of a new generation of DLP RPTVs that replace the projection lamp with a sequentially fired red, green, blue (RGB) LED configuration that also eliminates the spinning color wheel common to most other DLP single chip designs.

Instead of the inefficient and costly bulbs that burn out, the new 56-inch HL-S5679W DLP set from Samsung uses tri-color LED lighting, providing an elegant way of retaining a single chip DLP design that eliminates the two weakest (and costliest) parts of conventional DLP designs: the high intensity bulb and the spinning color wheel (not to mention the noisy bulb fan). There is still some debate about color quality of bulb vs LED, so I'll say it again - the proof of the pudding is in the picture, look carefully before you buy.

These LED light engines are still a 'sequential firing' type of approach, just like a spinning color wheel, but the switching is so fast, it is said to be as effective as a 48x color wheel, eliminating any rainbow effect (RBE).

This unit is rated at a seven-second startup time and 20,000 hours of LED lamp life (vs maybe 6000 hours for regular mercury lamps). The light engine technology behind this innovative product is PhlatLight™ (Photonic Lattice Light Source) technology, developed by Luminus Devices based on research done at MIT, and it is claimed to be the only Solid State Lighting (SSL) source that provides enough brightness to illuminate large screen rear projection televisions (RPTVs). According to the press release, the PhlatLight™ has brilliant image quality, deeper color saturation and a simpler light engine design, with a light source that is safe and environmentally friendly (no mercury).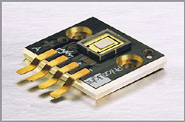 The technology was originally explored at MIT, as an effective way to coax more photons out of a typical light emitting diode (LED). The idea was to suppress the lateral propagation of photons inside the semiconductor device, a common problem in conventional LEDs, which traps the photons and limits the amount of light extracted. Luminus goes on to say that "this concept, based on the application of photonic lattices and now known as PhlatLight™ technology, has led to solid state light sources with extremely high power and brightness, which are being produced by Luminus Devices in mass production volumes."

Some of the other characteristics listed by Luminus:

-Extremely high light output and high surface brightness
-Single chip solution for large screen RPTV light engine
-Emitting area optimized and matched to the size and aspect ratio of the microdisplay
-Collimated emission for higher collection and transmission efficiencies
-Air emitting devices for lower coupling losses, higher luminance, and high reliability
-Uniform distribution of power over the entire chip surface area
-Proprietary SMT package offers superior thermal and electrical management solution
-Readily customizable mechanical interfaces
-Outstanding reliability with very long operating life
-Wide color gamut that exceeds the NTSC standard

With Cinema Smooth™ (Samsung's version of HP's Wobulation), the HL-S5679W DLP projector provides a full 1920 x 1080 picture in a progressive format. Samsung claims the dual HDMI inputs will handle 1080p signals, so it could be a good match for use with the Sony PlayStation 3, which will output a 1080p signal (unlike the XBox 360 at 1080i).

This is a very important point, as many of the new 1080p HDTV sets don't actually accept a 1080p input. Why the heck would they not include 1080p inputs on a 1080p set? Cost saving, I guess, because there really aren't hardly any true 1080p sources yet, although the PS3 will certainly be one. Buying a 1080p set isn't a waste, though, because most of these new units will take a lower resolution input, such as 720p or 1080i, and upconvert or upscale it to a simulated 1080p result.

Akai is entering the DLP LED competition too, with the AKAI PT52DL27L and PT42DL27L. These units also incorporate LED light engines utilizing the TI 1080p DLP chip that drives two pixels with each micromirror (wobulation technology). Digital cable ready, the new AKAI RPTVs feature integrated over-the-air tuners.

And finally, we're still waiting to see the new SED sets from the Toshiba/Canon alliance, as discussed in my previous article about HDTV SED technology. SED is an entirely different approach to the reflective technology of DLP and LCoS (which includes SXRD), it can best be described as an 'emissive' technology, closer in nature to the current plasma technology, without the disadvantages.

Most of these new 1080p units support CableCard, a small PCMCIA-size card available from most digital cable providers that can provides digital cable service without the need for a set-top cable box. CableCard currently does not support the EPG (Electronic Program Guide) or VOD (Video-On-Demand) functionality of a regular cable box, although a next-generation version that does support these features is in development.
Just to recap the SXRD scene, previously only available in the $30,000 Qualia series, the SXRD chip is available in the front projection VPL-VW100 (left).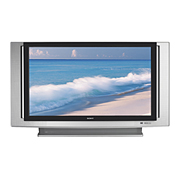 With an enhanced dynamic iris system, it is said to have a contrast ratio boost to 15,000:1).

The SXRD technology is also available in the new Grand WEGA SXRD (right) rear-projection microdisplay television series, with screen size ranging from 50" to 100" (KDS-R50XBR1, KDS-R60XBR1, KDS-R70XBR1, KDS-R100XBR1).

There is also a new SXRD rear projection TV model (right);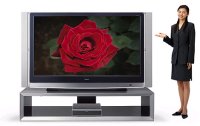 the Sony Qualia 006 (KDS-70CQ006). This Qualia 006 model series has much the same specifications as the Grand WEGA KDS-R70XBR1.

AS we move on into the decade, the HDTV home theater systems just get better and better, with more bang-for-your-buck value every day. The SXRD systems from Sony certainly fall into the top performer category, but these new 1080p DLP sets look very promising too. I look forward to see how other companies such as Toshiba, Canon and Samsung respond to the challenge.
* * * * *