Bulletin: RollerTrol™ Automation Systems is Launched!
We have been busy making and selling roller blinds and projector screens for some time, and we have decided to start selling the components at RollerTrol.com so others can do the same.
Take a look at our online store for tubular motors and other associated products - make your own custom shade or screen size that fits your room perfectly! We also have special motor kits that work with x10 automation systems.
While you're at it, check out our tubular motors with built-in radio controllers. When used with our multi-channel remotes, you can control the screen AND blackout blinds with a single remote!
End Bulletin: RollerTrol™ Automation Systems


Well, it's taken a while, but I finally made my decision on my first home theater screen. It was a difficult choice that has taken months of research, with many issues to resolve.

I had a number of reasons to choose the BenQ front projection DLP 'digital light cannon' as my best buy (although the SVGA BenQ PB6100 was another good choice). Here is a summary of the features I wanted:

-a BIG screen for my money, not just something a foot or two bigger than my 27" TV
-something unobtrusive that wouldn't dominate the room when not in use
-a bright, sharp, high contrast picture without screen door effect (SDE)
-something with a cost that didn't require a second mortgage
-a display that didn't deteriorate significantly over time
-a watchable picture in ambient lighting conditions
-a reasonably wide viewing angle
-XGA (1024x768) resolution
-RGB computer input

I also decided that I wanted to run my theater system from a computer, removing as much video processing as possible from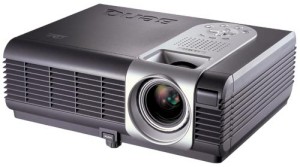 the internal projector electronics. This allowed me to buy a projector that had most of it's development costs focused on the light projection technology itself. It also gives me much more flexibility and a significant picture quality improvement if I run my own external hardware and software on a PC to maximize the picture resolution, and to deploy enhancements as they become available, thereby lessening the obsolescence factor. It is possible to get better results from a dedicated PC, since the processing power is considerably greater than anything a manufacturer can hope to include in the cost of projector production. This type of use for computers has created a whole new field, often referred to as HTPC (Home Theater Personal Computer). I'm looking forward to playing with some of the advanced software such as WinDVD Platinum.

The most economical way to get a big screen that disappears when not in use, is to use a front projector - hence my decision to purchase the BenQ PB 6200 DLP front projector. I chose the DLP technology over LCD and LCoS because of issues concerning brightness, contrast, longevity and initial investment.

I picked it up online for around $1700, which included a spare lamp bulb (a $400 value). The spare bulb bundle offer ends at the end of April, but even without it, this projector is an excellent value - you won't find a better buy anywhere. I see that the price has dropped considerably since I bought it.
My projector was shipped the day after I placed the order - pretty good, I thought, especially considering the high demand for this unit!

Here is a brief summary of the BenQ PB6200 specs:

-native resolution: XGA (1024 x 768 pixels)
-aspect ratio: 4:3 Native/16:9 Selectable
-light output: 1700 lumens
-contrast ratio: full on/full off 2000:1
-reflective display technology: 12° DLP Digital Light Processor
(DDR Double Data Rate .7" DMD Digital Micromirror Device)
-HDTV-compatible (480p, 720p, and 1080i)
-4 segment color wheel, 3X speed
-Picture In Picture (PIP)
-inputs: RGB, component, composite, S video
-lamp life: 3,000 hours in eco mode
-3 year, first year swap replacement warranty
-full function remote control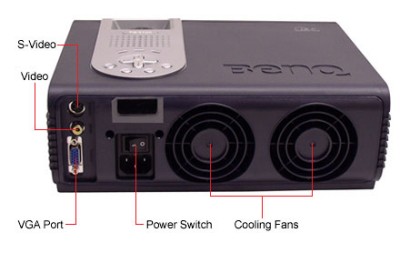 For around $30, I picked up a 10 foot diagonal bright white roll-up screen (gain of about 1.2) that will cover the end wall in my great room. You can find rolled projector screen material on Ebay. I may also convert it to a motorized, remote controlled, retractable unit, using X10 switch modules and a motorized drapery controller to raise and lower the screen (for more info on the incredibly useful x10 technology, see our home page).

I bought a chain driven blind fixture from a local hardware store, cut off the vinyl blind, hacksawed the horizontal aluminum roller tube in half, and inserted an 8 ft. piece of anodized aluminum tubing to extend the roller, for a total screen width of 110". The projector will be concealed in a light fixture array hung from the ceiling, so that the whole system will be quite unobtrusive when not being used. Here are some pictures of the drop down screen partially unfurled (left) and fully retracted (right):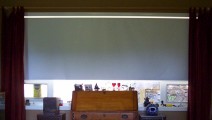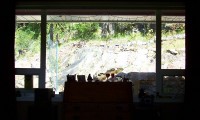 Now you see it ... Now you don't ...


I'll use the DVD in my laptop as a video source for now, as I examine some of the amazing software available for enhanced home theater use. Once I have experimented with the output from my laptop and decided on my processing needs, I'll probably buy an inexpensive re-certified off-lease laptop and use it as a dedicated HTPC. The HTPC experience will be the basis for another forthcoming article, and between now and then I'll figure out if I really need to buy a regular desktop case PC instead.

Here's the official BenQ product announcement for the PB 6200:

City of Industry, CA (Feb. 24, 2004) - BenQ, a leading manufacturer of DLP™ based digital projectors, introduced its latest digital projector with the PB6200. The PB6200 is a sturdy, yet lightweight digital projector that is ideal for a variety of professional and personal home theater applications and installations.

The PB6200 utilizes proprietary BenQ video-processing technology to support the latest DLP chipset from Texas Instruments. The new DLP DDR chipsets produce flawless pictures that won't fade or degrade over time, and the optical engine lifetime exceeds 100,000* hours while maintaining the images' original clarity.

"The BenQ PB6200 is an ideal projector for those wanting a powerful and compact projector with XGA resolution capacity," said Jeff Chen, vice president of Digital Media at BenQ America. "The PB6200 delivers the functionality and the performance of an XGA projector, but at a competitive price point. As visual presentations become more sophisticated, the need for an XGA projector becomes greater. The PB6200 offers the features to match the latest software programs, presentation ideas and videos."

The BenQ PB6200
The BenQ PB6200 is an XGA digital projector with a high 2000:1 contrast ratio at 1,700 ANSI lumens. It has a native resolution of 1024 x 768, and can support resolutions from 640 x 350 up to 1280 x 1024 and 4:3 or 16:9 aspect ratios. The PB6200 has a throw ratio of 60-inches at 6.6-feet and delivers images from 40- to 300-inches. It is compatible with NTSC, PAL, SECAM and NTSC 4.43 video systems, and is HDTV-compatible (480p, 720p and 1080i) with direct YPbPr/component (through VGA port), S-Video and composite video inputs.

The PB6200 integrates BenQ's proprietary Dynamic Color Management System (DCMS) technology and supports 16.7 million color palettes, as well as four-segment color wheels to ensure accurate color reproduction. It features PIP functions and a Digital Keystone correction system for quick and easy set-up. The PB6200 delivers a lamp life of up to 2,000 hours, which can also last up to 3,000 hours under "economy" mode.

All BenQ digital projectors come with the company's product commitment-a free first year "Xpress Xchange" program and a three-year limited warranty.

The BenQ PB6200 has a manufacturer's suggested retail price of $1,795 through BenQ's distribution channels.

---
Was this projector purchase a compromise decision? You bet! There are a number of features and performance levels that I gave up, in favor of this particular price/performance ratio ...

Perhaps the most significant missing feature is the DVI digital input on this unit; only analog RGB, component, composite, and S video inputs are present. This may sound like a major item, but it's important to remember that digital HDTV sources are not widely available yet. In anticipation of this screen purchase, I recently bought from my so called 'digital cable' service a Motorola 2500 cable converter. It doesn't have a digital output. I later discovered that I could pay them an extra per-channel monthly fee for each of the few local HDTV broadcast channels, but I'd also have to buy another expensive digital output converter from them, just so I can watch commercials in high resolution. Thanks, but no thanks!

Our main usage is watching film laid on DVD, and it's important to understand that the current DVD format is not HDTV. It is a relatively high resolution digital format (DTV), but the HDTV higher definition encoding will only appear in the next generation of DVD players. By the time that happens, I'll be ready for a screen upgrade anyway, and I will get digital inputs at that time. The current DVD format is digital, so I will be putting up with the slight degradation introduced by the digital-to-analog conversion RGB output on the VGA monitor connector of my HTPC (and the subsequent analog-to-digital re-conversion inside the the projector). Nevertheless, this picture is still very sharp, with excellent color saturation, and I plan to introduce numerous software image enhancements via my laptop, such as 'high end' de-interlacing and scaling. Keep in mind that it is a big advantage to process the video within the digital realm, as it comes off the DVD player inside the HTPC, before it is finally converted to analog at the output and sent to the projector.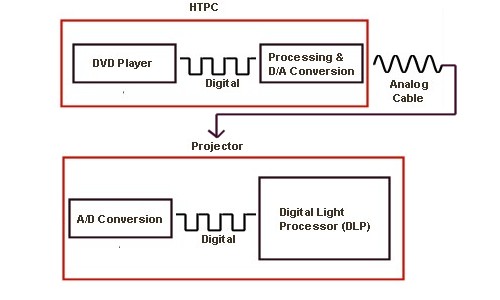 All things considered, this really wasn't too much of a sacrifice, considering the cost. Yes, there are other projectors out there that have DVI digital inputs and the excellent Faroudja de-interlacing scan doubler, but they are typically twice the price and more, with equivalent specs. I also like the idea of keeping the processing external, so that I can upgrade the picture as the software improves. This unit does have internal processing, but I'll be bypassing it in favor of the more powerful systems I can deploy in my laptop, such as WinDVD Platinum.

My feeling about HDTV is that it is NQTY (Not Quite There Yet) and when it finally becomes the norm, keeping the video signal entirely within the digital realm will be much more important. Also, for those of you using a stand-alone DVD player instead of an HTPC, keep in mind that very few of these units are produced with a digital output at this time, so purchasing a display with a DVI digital input may not make much sense unless you were planning to keep it for a long time (anticipating future use). Also keep in mind that a digital image isn't necessarily better than an analog image - in some cases it can be worse. An HDTV picture can also be analog; Japanese HDTV is broadcast using an analog signal.

If you decide to purchase a unit with a DVI digital input, you may also want to check to see if it supports the HDCP copy protection protocol, and which flavor, as there is a standards war going on at the moment (you could end up with a DVI input that is obsolete). If it doesn't, you could end up with a reduction in quality on copy protected material. The copy protection and standards incompatibility problems can be avoided entirely by using an HTPC as your video source.

I also compromised somewhat in the area of brightness vs contrast. I wanted a high contrast unit, for sure, but I also wanted to be able to watch a movie without putting up blackout curtains in our great room. The 2000:1 contrast of the PB 6200 is quite high, and although other projectors are reaching into the 3000:1 realm with this DMD chipset, they do this by stopping down the projector iris, thus lowering the brightness in favor of contrast (they are still only typically running at 2000:1 with the iris fully open). The 1700 lumens rating of this unit is quite high, and should work well in a partially lit environment.

A further compromise consideration was the speed of the spinning color wheel in single chip DLP projectors (used to create the 3 primary colors: red, blue, green). Most of the lower priced units use a 2x speed, whereas this BenQ unit has a 3x wheel. This should reduce or eliminate the so called 'rainbow effect' motion artifacts attributed to this type of projector (also considering the DDR [Double Data Rate] of this latest DLP chip), although the more expensive units are running at 5x and 6x speeds. I wasn't particularly bothered even by 2x color discs, but some people are more sensitive to this anomaly than others, so you should always look at a DLP projector (front or rear projection) before you buy, to determine your tolerance level. Buying a 3 chip DLP projector would also be an option (eliminating the color wheel altogether), at about 5 times the price.

I could have made a further compromise in the area of resolution by purchasing an SVGA projector (800x600 pixels), but I run my computers at XGA (1024x768) and I didn't see the logic in that, since I'm using the DVD in my computer as the primary video source.

I also chose a native 4:3 aspect ratio, even though I'll be watching a lot of 16:9 sources. I found that these projectors were less expensive, and actually displayed the same vertical resolution at 16:9 as the the new 'Mustang' DMD chip that runs in native 16:9. It also has the benefit of displaying 4:3 sources at a larger size and/or higher resolution.

My next articles will cover more about the projector setup, video and sound processing, and what can be done on an HTPC to enhance the picture and sound quality. (Author's note May 6/04: The projector arrived yesterday; preliminary results were outstanding, see the NEXT ARTICLE about setting it up).

For the sake of clarity, here are some acronym and terminology definitions relating to the various display technologies, used in the other table below to compare the various screen types:
| | |
| --- | --- |
| TERM | DEFINITION |
| TLA | Three Letter Acronym |
| HDTV | High Definition Television. The highest quality video picture available in Digital TV. In the U.S., the 1080i and 720p resolution formats in a 16:9 aspect ratio are the two acceptable HDTV formats. Regular NTSC analog TV is 480i. |
| HTPC | Home Theater Personal Computer. The use of a PC as a processing and source control platform for a home theater system. |
| RPTV | Rear Projection TV. The type of home theater screen system where the image is projected onto the back of the screen. Can be DLP, LCD, CRT projection technology. |
| Lumens | An ANSI Lumen is a measurement of light radiation or brightness. A 3,000 Lumen projector creates a brighter picture than a 2,000 Lumen unit. The ANSI prefix is a standards designation (American National Standards Institute). |
| Nits | Plasma and LCD manufacturers use this term to define the brightness of their screens. Another term for Nits is Candelas per square meter (Cd/m2). One nit = 0.2919 foot-lambert. Nits includes an area definition, unlike lumens, so you can't simply divide by Watts to establish a Nits/watt spec. |
| 480i 720p 1080p | resolution measurement in lines, p for "progressive scan", i for "interlaced scan". Conventional TV (e.g. 480i) is interlaced whereby the screen is scanned twice by alternate lines that are interleaved (interlaced), whereas HDTV (e.g. 720p) can scan all lines sequentially (consecutively or progressively). |
| DVI HDCP | Digital Visual Interface technology with High-bandwidth Digital Content Protection. Developed by Intel Corporation, HDCP is a specification to protect digital entertainment content through the DVI interface. The HDCP specification provides a transparent method for transmitting and receiving digital entertainment content to DVI-compliant digital displays. Some products, such as set-top boxes and DVD burners will require this connector. Even if you have a HDTV set-top box, if it lacks the DVI, your signal may be degraded. |
| HDMI | High Definition Multimedia Interface. Like DVI, HDMI is another digital interface, and from what we saw at CES 2005, it may become the universal standard. Developed by Sony, Hitachi, Thomson (RCA), Philips, Matsushita (Panasonic), Toshiba and Silicon Image, the High-Definition Multimedia Interface (HDMI) has emerged as the connection standard for HDTV and the consumer electronics market. HDMI is the first digital interface to combine uncompressed high-definition video, multi-channel audio and intelligent format and command data in a single digital interface. |
| SACD | Super Audio CD uses a new recording technology called Direct Stream Digital. DSD records a one bit digital signal at a sample rate of 2.8 million times per second, 64 times higher than conventional CD's. |
| NTSC | Existing color TV standard developed in the U.S. in 1953 by the National Television System Committee. NTSC vertical line resolution is 525 lines/frame and the vertical frequency is 60Hz. The NTSC frame rate is 29.97 frames/sec. |
| CRT | Cathode Ray Tube - venerable old style picture tube |
| PDP | Plasma Display Panel, plasma is a physics term for an electrically charged gas |
| LCD | Liquid Crystal Display, same as laptop screens |
| TFT | Thin Film Technology, a type of LCD |
| DLP | Digital Light Processor, a reflective light switch chip developed by TI. Has a very fast response time - no motion lag |
| TI | Texas Instruments Corp., original manufacturer of DMD's and DLP's |
| DMD | Digital Micro-mirror Device - chip for DLP technology by TI |
| DNIe | Digital Natural Image enhancement - chip for optimizing video picture quality, by Samsung (used in their DLP units) |
| LCoS | Liquid Crystal on Silicon, reflective light switch |
| SXRD projection | Silicon X-tal Reflective Display: Sony's incarnation of LCoS technology. Sharp picture, no pixelation, very high resolution, reflective system won't burn out picture element, "no moving parts" design usually incorporates 3 imaging chips for primary colors, instead of color wheel. |
| SED | Surface conduction Electron emitter Display by Toshiba/Canon |
| FED | Field Emission Display: New technology from Sony |
| OLED | Organic Light Emitting Diode display: new technology from Seiko-Epson |
| D-iLA | Direct Drive Image Light Amplifier, LCoS chip developed by JVC |
| QXGA | high screen resolution of 2048 x 1536, attained by D-iLA chip |
| DCDi | Directional Correlation Deinterlacing (a de-interlacing method to eliminate jagged edges (jaggies) along diagonal lines caused by interpolation, developed by Faroudja corp. An important feature to look for, this Emmy® award winning technology was once only available in products costing $20,000 or more, and is now available in numerous products costing well below $2,000 |
| aspect ratio | ratio of screen width to height. An aspect ratio of 4:3 is conventional TV and 16:9 is HDTV (and film) |
| 3-2 pulldown | a method of film-to-video conversion |
| twitter and judder | terms describing film conversion related artifacts |
| anamorphic lens | a special lens that compresses the pixels of a 4:3 screen into a 16:9 format, and allows a projector to use the full brightness of the display, without black bars above and below the image. Must normally be removed for regular 4:3 viewing. |
| SDE | Screen Door Effect is a term used to refer to the visible pixel structure on a screen. |
| YADR! | Yet Another Dang Remote! A common exclamation heard from people who just bought their third or fourth home audio/video component. And then there are further unmentionable expletives when you find out a component isn't supported, or it's just too complicated to program everything in?? Maybe it's time to read about our experience in the remote control review article. |

The following table provides a quick comparison of the display types; "pixelation" refers to the ability to see individual picture elements (pixels) at normal viewing distances (note that all the types below can contribute to the YADR index). Please note that these products are being constantly improved and not all manufacturer's models may be subject to the disadvantages listed below:


DISPLAY TYPE
PRO - ADVANTAGE
CON - DISADVANTAGE
CRT conventional
picture tube
Cathode Ray Tube: very sharp and bright, high contrast ratio, good picture view from side, low cost, handles regular analog NTSC channels well, no moving parts
heavy and bulky, limited in size to about 36", picture can fade
CRT projection

low cost, large screens possible, no moving parts
heavy and bulky, limited viewing angles, visible raster lines, mis-convergence can be a problem, picture can fade over time
LCD flat screen panel
Liquid Crystal Display: bright, sharp picture, light and compact, can hang on wall, solid state, no moving parts
picture can fade over time
LCD projection
fairly bright, large screens possible, sharp picture, no moving parts
display can fade due to heat damage to organic compounds that some manufacturers use in the LCD, projector bulb can fail
PDP Plasma flat screen panel
Plasma Display Panel: bright picture, light and compact, can hang on wall, wide viewing angle, no moving parts, handles fast motion really well
expensive, some pixelation, display can burn out.
DLP projection
Digital Light Processor: bright, sharp picture, high contrast, no pixelation, reflective system won't burn out picture element, very fast response time - no motion lag.
possible visual "rainbow" artifacts on single chip versions caused by spinning color wheel, projector bulb can fail
LCoS projection
Liquid Crystal on Silicon: bright, sharp picture, no pixelation, very high resolution, reflective system won't burn out picture element, "no moving parts" design usually incorporates 3 imaging chips for primary colors, instead of color wheel.
projector bulb can fail
SXRD projection
Silicon X-tal Reflective Display: Sony's incarnation of LCoS technology. Sharp picture, no pixelation, very high resolution, reflective system won't burn out picture element, "no moving parts" design usually incorporates 3 imaging chips for primary colors, instead of color wheel.
projector bulb can fail
SED panel display
Surface conduction Electron emitter Display: very bright picture, very high resolution, can hang on wall, very high contrast ratio, can be viewed from any angle, no moving parts, handles fast motion really well
expensive at first, not available yet
FED panel display
Field Emission Display: New technology from Sony, properties are similar to SED
expensive at first, not available yet
OLED panel display
Organic Light Emitting Diode display: new technology from Seiko-Epson
expensive at first, not available yet