This article series will cover the reasons behind my decision to choose GSM / GPRS,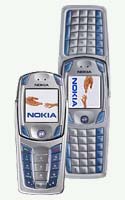 and the subsequent purchase of my Nokia 6820 smartphone. Although lacking in some features (no kitchen sink or airbags), this little gem is a modern miracle of technology packed into one very small and convenient package. It has transformed my daily routine and improved my life immeasurably.

I would have bought it just for the ability to respond to my email with the full fold-out qwerty keyboard, but it offers much more than that. Another very significant factor is the SIM card (Subscriber Identification Module) - a personal identity card that creates the ability to move from carrier to carrier with an unlocked phone, depending on where you get the best rate and service. Finally, we get a way of having sensible competition between GSM service providers, and no more huge bills from roaming charges.

The RF sensitivity of this unit is outstanding, and shows good signal strength in a weak signal area, in a side by side comparison with another phone that doesn't work at all. It is important to hold it at the base and not let the top of the phone (where the antenna is housed) come into contact with anything, but otherwise it will pull in a signal where you couldn't get any before.

I also really like the ability to back up the entire memory contents of the phone to my laptop, with the provided software. If I ever lose the phone, or it breaks, I can get another phone and immediately restore the memory to make it fully functional. That includes contacts, addresses, phone numbers, configuration, pictures, video ... everything that is in the phone.

My decision to use GSM was based largely on the ability to roam freely in different countries, and the recent commitment by ATT to expand their GSM system at home was no small factor. Then the ATT - Cingular merger took place, further expanding the available network, which solidified my decision. I will be discussing both network issues and phone capabilities in this series, including the data capabilities of the GPRS system. The faster EDGE (EGPRS) data bearer system is currently being deployed in our area, and I'll be reporting on this too.

Going to Afghanistan? Save money at Afghan Wireless with an Afghanistan SIM Card.